Chelsea Investment Corporation: Creating affordable, sustainable housing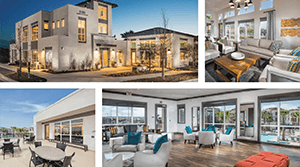 At a time when U.S. cities and towns need affordable housing, our client Chelsea Investment Corporation is making it happen in a big way—and with an emphasis on sustainability.
Focused on creating and preserving high-quality rental homes, the organization has developed more than 135 affordable communities comprising 15,000 homes and changing the lives of 40,000 people. Included are special needs housing, senior housing, rural housing and mixed-use housing. In the process, Chelsea partners with diverse nonprofits such as St. Vincent de Paul/Father Joe's Villages, Alpha Project, United Cerebral Palsy and many others.
Company founder and CEO Jim Schmid is a respected advocate for safe, affordable, accessible housing. In addition, "every Chelsea project has some type of green or sustainable elements," explained Waheed Karim, our Senior Affordable Housing Relationship Manager.
Waheed has served the Carlsbad, California, company for many years and we've been honored to support their projects since 2017. Waheed works closely with Chelsea President Cheri Hoffman, an authority on financial modeling incorporating tax credits and tax-exempt bonds. Well versed in securing multiple forms of government and private funding, Cheri leads the company's finance team in structuring innovative financing solutions to develop housing that complements the surrounding neighborhoods.
Chelsea's commitment to incorporate sustainable elements—from renewable energy systems to low-water landscaping—into every project results in healthier, environmentally conscious homes. The corporation has developed nearly 25 LEED (Leadership in Energy and Environmental Design) Gold- or Platinum-certified apartment communities throughout California and New Mexico.
In addition, Chelsea has earned numerous awards. In 2022, the company received the BIA San Diego Best Affordable Community of the Year Award for Saint Teresa of Calcutta Villa and landed at number 20 on Affordable Housing Finance's Top 50 Affordable Housing Developers of 2021.
The Bank has financed several Chelsea affordable housing communities in California, including Pacifica at Playa Del Sol and Apollo, both in San Diego; Serenita in Brawley; Girasol in El Centro, and Carolita in Porterville. We look forward to our continued partnership to support future affordable, sustainable housing.
Learn more about Chelsea's projects, partners, approach to sustainable design, client and resident services and more at https://www.chelseainvestco.com/.