Creswell Bakery: Artisanal Goodness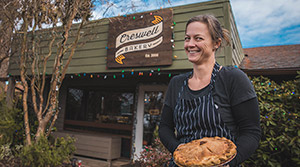 You can never underestimate the culinary wonders of small town America. That's surely the case in Creswell, Oregon, where our client and classically trained chef Heidi Tunnell emphasizes the quality and freshness of every item served at her Creswell Bakery. While the breads, pies and cinnamon rolls she and her team bake are amazing to behold, the business offers much more than traditional bakery fare, including full-on breakfast, lunch and Sunday brunch.
From pastries to soup stocks, Heidi aims to make items from scratch using local, seasonal ingredients whenever possible. The organic, grass-fed beef that goes into the Bakery's roast beef sandwiches and warm meat pies comes from Heidi's nearby family farm. The burger is available to buy in the shop's freezer case. Often, the aroma of house-cured bacon being smoked to perfection complements the scent of baked goods.
Now a nationally known foodie destination, the Bakery began small. After graduating from the Culinary Institute of America in New York, Heidi became fascinated with the science of baking and fermentation. She started Farm Girl Kitchen in 2006 in her grandma's house, making and selling baked goods one day a week at the local farmers market. She added catering, and in 2008, having gained a following, Heidi opened Creswell Bakery. The Bakery is a favorite of Banner's Cottage Grove Branch team, whose members have been meeting the client's banking needs since the beginning.
Located eight miles south of Eugene, Creswell Bakery is open 7 a.m. to 6 p.m., Monday-Saturday, and 9 a.m. to 3 p.m. Sunday. If this story hasn't sparked your appetite, a visit to the Bakery's website, where you can learn more about their artisanal approach to food, just might.