Eco Lounge: Sustainable Outdoor Adventure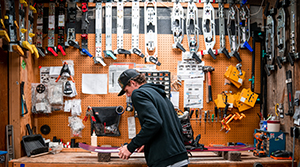 Some businesses have a clearly defined sense of their role in the world and operate by their values. That's the way it is with our client Eco Lounge in Boise. Opened by well-known Pacific Northwest downhill skier and ski coach Mike Teschner in 2004 near the base of Bogus Basin Ski Resort, the business is a ski shop and so much more.
Guided by the philosophy that the "environment is no one's property to destroy; it's everyone's responsibility to protect," Eco Lounge is a haven for sustainable products and ideas for diverse outdoor adventures. That includes skiing, snowboarding, fly fishing, paddle boarding, camping and other passions.
With an emphasis on people-powered recreation and serving the community, the shop carries a variety of environmentally friendly products and works with manufacturers who create sustainable goods. Even the ski and board wax in the shop is natural, hand-poured and free of chemicals. The company also offers gear rental, lease and repair.
We've been honored to serve Eco Lounge since late 2012. To learn more about their merchandise and services, visit Eco Lounge.