Sienna Restaurant: Delicious Acts of Kindness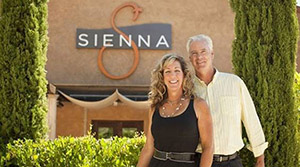 Our clients' good deeds throughout the pandemic continue to do more than inspire. In fact, when clients Mark and Karoline Platt offered free meals to furloughed restaurant workers at their Sienna Modern American Restaurant in Roseville, Calif., in early 2021 they were feeding hearts, minds, bodies and souls. And they did so with chicken-parmesan and garlic bread.
The owners of four restaurants in the region, the Platts said on Facebook, "Our hearts go out to all our team members as well as neighboring restaurants."
As a "small act of kindness," they offered furloughed members of the restaurant industry the take-out meal as a lunch or dinner on Wednesdays from January 6 until the state's stay-at-home order ended later that month.
"We're honored to serve clients like the Platts, who recognize and appreciate the hard work of people in their industry," said Doug Stephenson, Banner's Northern California Commercial Division Director. "They found a creative way to support their colleagues and contemporaries during a particularly challenging time."
The Platts have been Bank clients for 10 years, according to Commercial Banking Center Manager Kash Gill. To learn more about the restaurant and see its inviting atmosphere, visit the company website.