South Perry Pizza: A Lot of Local Love in Every Bite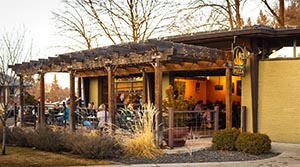 Nestled in a historic neighborhood that is at once hip and cozy, Spokane's South Perry Pizza creates food that is—pardon the cliché—a feast for the senses. Made in-house of locally sourced ingredients, the fire-roasted pizzas, salads, dressings, appetizers and desserts all celebrate fresh, local flavor. The restaurant opened in late 2009, and we've been honored to serve them since 2013.

South Perry Pizza bustles with energy and its friendly atmosphere makes the restaurant a good fit in a district that is home to a grade school, a Buddhist temple, brewpubs, a yoga studio, an Irish dance school, a bike shop, a juice bar, and a seasonal farmers market. It is both a destination eatery and a favorite gathering place for folks who live nearby.

Owner John Siok explained the pizzeria's secret formula: "We focus on creating the best pizza experience anywhere. We make everything in house: Dough, sauce, salad dressings, desserts…everything. All produce comes into the place as whole product. We hand slice and chop every pepper, onion, head of lettuce…!"

The pizza dough that diners see tossed into the air is made from wheat flour grown and milled in nearby Rearden, Wash. The pork for the Italian sausage is raised by a farmer in Valleyford, just south of Spokane, and seasoned in house. That same farmer supplies the restaurant's salad greens and tomatoes during the local growing season.

"We take our craft very seriously," John said. We use local ingredients to the greatest extent possible. And we believe that there is no better pizza or dining experience available."

Creative, seasonal specials, unique pizza toppings and options like gluten-free crust keep diners coming back. And when it comes to thirst-quenchers, South Perry features a variety of beer, wine and sodas crafted locally and throughout the Northwest alongside nationally known beverages.

Our Downtown Spokane Branch Manager Amber Williams praises the restaurant for being one of the first businesses to open and support the revitalization of Spokane's Perry Street District.

"Serving artisan pizza at affordable prices in a fun environment, the restaurant quickly became a cornerstone of a now thriving neighborhood," she said. "While South Perry Pizza draws patrons from all over Spokane, they have maintained a local neighborhood vibe, creating a community feel for all visitors."

Be sure to check out the South Perry Pizza menu and be warned, it just might make you hungry.