Kidz Again: Helping Parents Keep Pace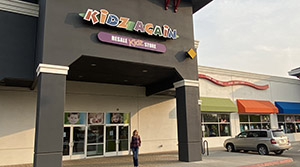 Recognizing how quickly kids grow, our clients Rik and Lynn Thomas opened their Kidz Again resale store in 2009 in Meridian, Idaho, to help parents keep pace. The store buys and sells gently used children's items such as clothing, shoes, toys, books, sporting goods and dance apparel and accessories. Kidz Again also carries maternity wear, baby furniture and equipment such as swings, strollers, carriers and bouncers.
By selling quality items at a fraction of what they would cost to buy new, the couple helps Boise-area parents affordably outfit their families while also supporting the concept of "reduce, reuse and recycle." It's a win-win proposition that means parents with items to sell can visit the store and leave with cash in hand or new items for the next phase of their child's development.
The Thomases have banked with us since starting Kidz Again. At Banner, we're honored to partner with a client with the ingenuity to serve families and the environment. The store is open 9 a.m. to 7 p.m., Monday through Saturday, and offers pick-up and delivery to simplify the process for busy families. Learn more about Kidz Again here.