McCabe's Landscape Construction: Water-Wise Designs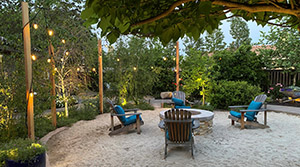 For nearly 20 years, the McCabe family business in Murrieta, Calif., has been helping people create special outdoor spaces—and conserve water. That's a big deal in a state where water is a precious commodity. The Banner team in Temecula has been honored to serve McCabe's Landscape Construction since 2019.
The owner, John McCabe, is really attuned to water-wise landscapes in our dry SoCal area!" explained our Temecula Branch Manager Monique Lambert. "And he's surrounded by a dedicated, artistic team.
The company got its start in 2002 with a five-acre tree nursery. Before long they added flowers, shrubs and vines, and in 2005 John became a licensed contractor. That meant the company could fully serve clients' design, build and planting needs. They founded a maintenance division in 2010 to help clients keep their outdoor sanctuaries looking great all year.
The business employs more than 35 people and has completed more than 1,500 landscaping projects for residents of the Temecula Valley. McCabe's has also won numerous awards over the past 10 years by creating unique designs tailored to individual and family tastes and suited to their homes.
Learn more about McCabe's Landscape Construction here.