Outdoor Design Studio: Recycling with Style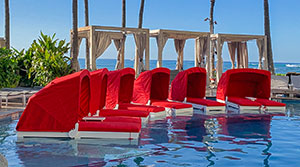 With an emphasis on "conserve, recycle and maintain," our client, Outdoor Design Studio, is taking the world of resort and patio furniture by storm. Based in Murrieta, Calif., the company manufactures attractive outdoor furniture, signage, storage cabinets, waste bins and more out of recycled plastic.
Their resilient products are used by hotels and resorts, zoos and amusement parks, university campuses, shopping centers, municipalities and home owners. The Soldura™ line of sustainable outdoor furniture, for example, resembles teakwood and never needs staining or painting. The furniture is designed to be stylish, comfortable, washable and ideal for wet or damp locations such as ships' decks, aquatic parks, beaches or poolside patios. By reducing the need for maintenance and replacement, the products can save businesses considerable sums of money over time.
Similarly the company's line of outdoor signs are made of marine grade high density polymer and recycled plastic lumber. The durable signs hold up under intense weather and avoid fading, peeling, cracking, splintering and rust. They also resist graffiti, which can be power washed off without damaging the sign.
Outdoor Design Studio has been an innovative producer of long-lasting recycled products since 1995. Their creations are welcomed by architects, designers and others working on LEED (Leadership in Energy and Environmental Design) Certified Projects who want the warmth of teak without the maintenance and replacement costs associated with wood.
"Our team has enjoyed serving Outdoor Design Studio since 2019," said Temecula Branch Manager Monique Lambert. "We look forward to helping them achieve their goals as they continue to innovate and serve the growing market for well-designed sustainable, green materials."
To learn more about this client, visit Outdoor Design Studio and Soldura.