Totally Chocolate: Making Great Impressions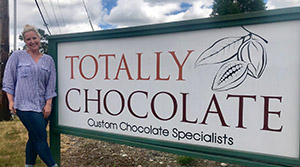 From the upper northwest corner of the Bank's footprint in Blaine, Wash., our client, Totally Chocolate, helps its clients across the globe deliver delicious, memorable messages. In addition to making regular and giant-sized chocolate bars and coins embossed with universal thank-you, birthday and anniversary messages, Totally Chocolate also makes chocolate creations engraved with logos or other custom artwork.
The company began more than 30 years ago with a vision to take a birthday chocolate bar to the next level using precision details and text. The operation quickly expanded to include custom personal and business gifts of fine white, milk and dark Belgian chocolate. Totally Chocolate also makes gift baskets and towers, as well as an array of boxed candies such as salted caramels, peppermint bark and chocolate-covered cookies.
We've been honored to serve Totally Chocolate since 2005. To see the company's diverse celebratory capabilities and packaging visit their website.