Supporting Hard-Hit Areas with Timely Interest-Free, Zero-Fee Flood Loans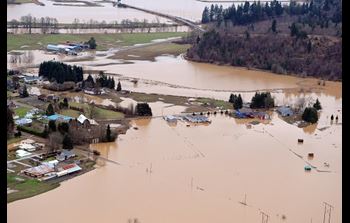 When disaster strikes the communities we serve, our team finds meaningful ways to help. That's exactly what happened when record rainfall and floodwaters ravaged homes in Washington's Whatcom, Skagit and San Juan Counties. We offered interest-free, flood-assistance loans with no fee, and extended nearly $1 million to support homeowners and renters impacted by the raging waters.
The Bogachiel, Nooksack and Skagit Rivers rose several feet in a few hours, carrying silt and debris, and displacing hundreds of people. The waters took eight to 10 weeks to recede, depending on the location. To help families repair, rebuild or replace essential items, we offered financing in amounts ranging from $1,000 to $15,000. During a 45-day lending period, our team approved 67 loans totaling $935,750. We made two more loans after that to serve clients facing particular challenges, as storms and COVID-19 continued to impact the area.
Clients used the funds for immediate needs such as bedding, clothing, food, appliances, animal feed, drywall, flooring and hotel rooms. A couple borrowers purchased camp trailers so they'd have a place to stay, while others bought a car so they could get to work.
Our Lynden Branch team handled the majority of loan applications. Thanks to our streamlined application and approval process, most applicants got their funds within 24 hours of applying. In many cases, people who applied in the morning walked out with a check that same afternoon.
Crediting many teams for the speedy rollout and processing, Craig Sievertsen, our Director of Small Business and Consumer Lending said, "It's pretty remarkable. Not many places give out their product for free for an extended period. We talk about Banner being responsive, and this particular response is about as good as it gets!"
This was not the first time we provided affordable disaster assistance loans. We've also offered emergency flood and fire assistance loans in recent years as part of our commitment to do the right thing.