Supporting Local Partners through the Pendleton Cares Fund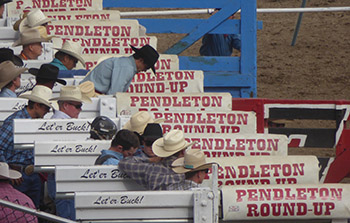 When the going gets tough, true partners tough it out together. That's what happened when the pandemic led to the cancellation of the annual Pendleton Round-Up, and Banner joined the effort to support folks who rely on the multi-day event for their economic wellbeing. After all, we've had a relationship with the Pendleton Round-Up Association since 1978.
The 2020 cancellation marked only the third time the Round-Up's been halted since it began in 1910. Over the years, the rodeo grew into a week-long extravaganza of parades, a concert, shows, a Tipi Village and several days of arena action ranging from bronc and bull riding to steer wrestling and barrel racing. Each September, these activities draw 50,000 to 60,000 people to Pendleton, Oregon, a town of 15,000 where most businesses depend on the influx of tourists for their success.
So when the leaders of the organizations responsible for the week's events started the Let'er Buck Cares fund to mitigate the loss of income and help affected businesses survive, Banner quickly jumped on board. We were in our fourth year as the title sponsor of Happy Canyon's Professional Bull Riding event typically held the Monday and Tuesday before the Round-Up. As such, Banner donated our annual ticket package and a sizeable portion of our 2020 sponsorship, contributing nearly $31,000 to the Cares fund.
Through contributions from individuals and businesses like us, the fund surpassed the organizers' initial goal to raise $300,000 and collected more than $750,000 to help sustain local businesses and service organizations. In some cases, the fund breathed new life into businesses that were just days from closing. The Let'er Buck Cares checks were distributed at the Round-Up Association's new headquarters and retail store, for which Banner provided construction and permanent financing in 2020.
"While nothing can truly replace an event like the Pendleton Round-Up," explained Commercial Banking Relationship Manager Steve Campbell, "we are honored to support a community and a region where our roots run deep."
Read more about the 2021 Pendleton Round-Up and the Let'er Buck Cares fund.