Contributing to the Red Cross to Help our Neighbors in Fire-Torn Areas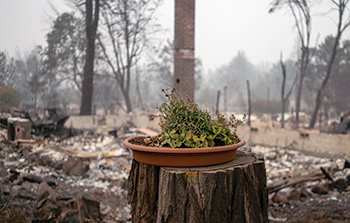 We've been standing by our communities for more than 130 years. So when wildfires ravaged much of the western U.S. in 2020, including places where our clients, employees and their families work and live, we knew we had to help out. We allocated $125,000 to assist folks in need and sought the best way to apply it.
People were already reeling from the economic impacts of the pandemic when many factors such as thunderstorms, strong winds and hot, dry landscapes combined to create the worst fire season on record. The wildfire season started early in April and by August several wildfires were burning in California, Oregon and Washington. In early September more fires had ignited across the West, some merging into dangerous mega-fires.
Smoke blanketed much of the region as people in the danger zones fled their homes and property, and thousands of firefighters worked to suppress the fires and mitigate the damage.
The Banner team wanted to help the greatest number of people across our service area who were displaced and in need of food, clothing and shelter. In looking at how to best support folks who were impacted by the fires, our leadership turned to a trusted organization experienced in disaster relief. We donated $125,000 to the American Red Cross Wildfires Relief Fund to distribute through the organization's many local chapters.
Thanks to contributions like ours, as of Nov. 3, 2020, the Red Cross Western Wildfires Relief effort served more than 901,900 meals and snacks, provided more than 401,100 overnight stays in emergency lodging and distributed more than 56,500 relief items. Such help was never more important, as 10.7 million acres burned in the West in 2020. Supporting our neighbors in this way was a vital part of our ongoing commitment to be there for our communities.