Outdoing ourselves in our drive to fight hunger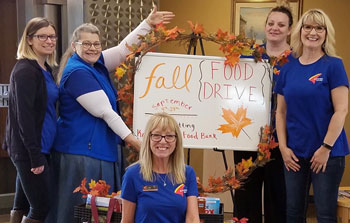 We partner with local food banks and food pantry organizations all year to help stock their pantries, but our annual food drive is a big march to collect funds and food to support families in every state we serve. And, boy did we collect!
Our most recent food drive brought in $26,299.89, topping the previous year's effort, thanks to the generosity of many clients, employees and friends who care about their communities. Now that's teamwork!
We also collected more than 20,600 items, including stacks of protein-rich foods like peanut butter, canned and dried beans, and canned tuna, and as well as staples such as canned soup, instant oatmeal and boxed macaroni and cheese.