Using Pedal Power to Fuel Global Bike for Humanity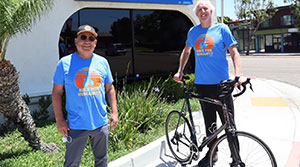 Creativity took to two wheels as our San Diego Commercial Banking team partnered with Bike for Humanity on events in 2020 and 2021 to support youth organizations struggling under the weight of the pandemic.
One of those ventures was Bike for Humanity II, a virtual two-hour bike ride in 2020 we sponsored for 1,700 participants from 20 countries riding whatever distance they wanted wherever they were located.
Bike for Humanity is a global initiative created in part by NBA Hall of Famer and avid bike rider Bill Walton, a longtime acquaintance of our own Southern California Commercial Division Director Steve Espino. He eagerly got us involved with this worthy cause.
Rider registrations, donations and sponsorships from the three 2020 events Bike for Humanity hosted, including the ride we sponsored, raised more than $200,000 to benefit children's organizations. One group receiving support is Free Bikes 4 Kidz (FB4K), which collects used bicycles, rehabilitates them with the help of volunteers, and then gives the bikes to kids around the country.
In 2021, we helped Walton and the organization again and hosted a kickoff event for media at our Chula Vista, California, branch to help promote FB4K. The group's goal is to give away 1 million bikes in the next five years in 100 American cities. Other organizations that have benefited from Bike for Humanity events have included No Kid Hungry, the Rex Foundation, and Boys & Girls Clubs of America.