Spreading Cheer to Nursing Home Residents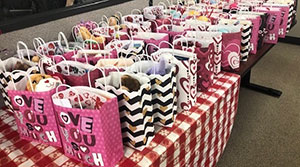 What started with an idea from a Girl Scout who donated holiday stockings to a nursing home in her community blossomed into a feel-good effort by our Bothell, Washington, Operations Center team.
Eager to spread cheer and hope throughout their local area, the team adopted a local nursing home's 90 residents. Many of them were without loved ones nearby or couldn't have visitors because of COVID-19 restrictions and had little interaction with the outside world.
The Bank has encouraged employees to be active in the community since our founding in 1890, and even provides paid time off for workers to volunteer at the charities of their choice.
So our Bothell team of 60-plus made gift bags with a Valentine's Day theme for the home's residents. The bags held much-needed items such as hand sanitizer, Kleenex, lotions and non-slip socks, as well as some fun goodies such as candies and snacks. The volunteers donated all of the items in the colorful and creatively designed bags and personally signed cards for each recipient. They also regularly reached out to their new friends during the year to let them know they are not forgotten.
We are incredibly proud of the generosity, compassion and team spirit of our staff. Banner employees donate more than 25,000 hours each year, and this is just one example of that giving spirit.