Championing Bright Futures for Boys & Girls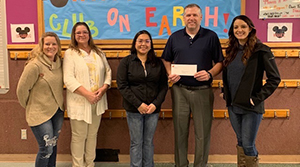 Across our service area, Boys & Girls Clubs give children and teenagers a safe environment where they can learn, play, build confidence and grow. And we're on board, contributing funds and volunteer time to support their programs focused on recreation, education, the arts, health and wellness, character and leadership, and career development.
In 2019, Banner employees volunteered 191 hours to support their local B & G Clubs. A highlight of those efforts was an eight-week financial education series taught by members of our Coos Bay team at the Boys and Girls Club of Southwest Oregon. Additionally, the Bank contributed more than $32,500 to a dozen of these youth-oriented clubs, sponsoring fundraising auctions, dinners, golf tournaments, galas and events across our footprint.
The Boys & Girls Clubs' mission of empowering kids to become good citizens and lead healthy, productive lives is a great fit for our long-term commitment to the communities we serve.
Pictured above: Members of our Lewiston, Idaho, team deliver a $5,000 contribution check to their local Boys & Girls Club.