At Banner, it's always the year of the woman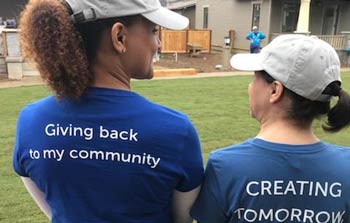 From financing women-owned businesses to supporting programs that teach women to lead and succeed, we love helping women reach their potential.
Sometimes the road to success begins with basics like clothing and shelter. That's why we routinely sponsor projects such as Seattle's Jubilee Women's Center, providing safe housing, job skills, clothing and more. Another example is My Girlfriend's Closet, assisting homeless women and children in Wenatchee, Wash.
We also champion events honoring women-owned businesses and women in leadership. And because there's a bit of Rosy Riveter in all of us, many of our employees—men and women—don hard hats and volunteer at Habitat for Humanity Women Build events in Washington and California.
After all, hard work and good intentions know no gender.