Team Prepares Potential Homebuyers with Free Seminars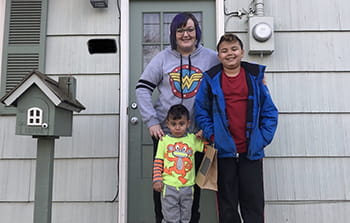 In 2019, our mortgage team offered nearly 200 free Homebuyer Education Seminars throughout our four-state region. All told, we helped 987 people prepare for home ownership and improve their understanding of the home-buying process—from the initial down payment to the cost of maintenance.
The effort included participation from all areas of our mortgage team with many members teaching two or more classes, often volunteering weekends and evenings to do so. Open to anyone, the unbiased seminars are geared toward low- and moderate-income families, and people who've never owned a home.
Historically, home ownership has been a great way to build financial independence and family stability. We've offered the courses for years and today they're especially important. That's because home prices have risen dramatically and, due to misinformation, many people believe there are no avenues for them to buy a home.
Our Mortgage Production Director Aaron Miller said, "We want to educate buyers so they can advocate for themselves, make informed decisions and understand the entire process completely."
Pictured above: Our bankers helped this single mom secure three layers of financing for a home purchase in Walla Walla, Wash.