Serving Food and Fellowship – a Walla Walla Tradition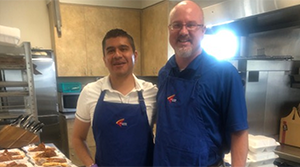 The second Friday of every month is a special night out for members of our Walla Walla, Wash., team. That's when they serve warm meals and kind conversation at a local nonprofit to folks facing some of life's harsher challenges—and they've been doing it for years.
Continuing a generous tradition, our employees provide three hours of volunteer support at the Christian Aid Center (CAC), and the Bank donates the cost of the dinner. Before the pandemic, the activity may have included preparing the meal in the center's commercial kitchen. These days, team members source carry-out meals that can range from pizza and dessert to chicken with a variety of side dishes. They serve CAC residents first, then offer free take-out meals to visitors via a walk-up window.
The non-denominational CAC serves about 47,000 individual meals a year to people struggling with hunger, homelessness, addiction and mental illness. The organization provides lodging and services to men, women and children, with a mission to help them leave homelessness permanently. In recent years they have provided more than 10,000 nights of lodging annually to individuals who earn less than 50 percent of the area median income.
While the coordination and volunteering for our Friday dinner service has passed through different hands over the years, longtime Bank employees say local team members have been at it more than 20 years. Currently, Branch Manager Bradley Baumann coordinates our local involvement, drawing upon team leaders in diverse departments including Mortgage, Commercial Banking, Consumer and Small Business Lending, and Credit Card Servicing. The leaders plan the meal with the center and recruit four to five volunteers to help serve it.
"It's certainly a group effort and a great example of what's possible when we all come together for a great cause," Brad said of the long-standing commitment.
In addition to assisting with the dinners, the Bank has been supporting the CAC's broader mission for quite some time. In 2021 and 2022, for example, we contributed a total of $20,000 toward the center's general operations, specifically electricity expenses. It's one more way we're providing a little safety and comfort for our neighbors in need.