Powering Wheels of Change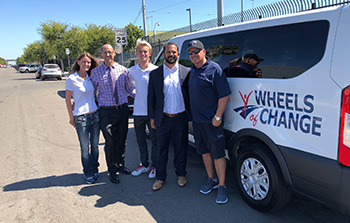 We believe in empowering people going through hard times, and support programs across our footprint confronting poverty with services such as housing assistance, employment opportunities and more. In San Diego, we got behind two unique programs. The first, Urban Street Angels, assists unhoused transitional-age youth in the area. And, Alpha Project's Wheels of Change offers homeless people the opportunity to earn money, contribute to their community, and build self-esteem by cleaning up neighborhoods.
Elsewhere, we sponsored programs to prevent homelessness, such as Boise's Jesse Tree, which assists people facing eviction. We also contributed to organizations, like Hopelink in western Washington and the United Community Action Network (UCAN) in Roseburg, Oregon, that help people secure housing and access services such as transportation, education, utility assistance and food support in times of crisis or as a path out of poverty for the long term.
Each year we're honored to support programs like these that lift people up by feeding their basic needs as well as their spirits.
Pictured above: Members of our San Diego team stand with Wheels of Change and Alpha Project leaders in the effort to help the community's homeless population.