Rallying Behind the Next Generation of Health Care Providers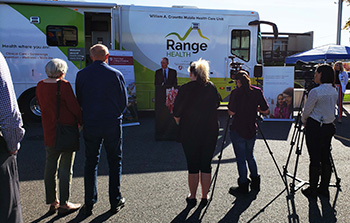 When Washington State University's College of Medicine reached an important milestone in its goal to expand medical care throughout the state, we rallied to support that success.
We serve the same communities as WSU, so it was an honor to sponsor and host a statewide tour introducing the inaugural class of third-year medical students and their first mobile health care unit. We were thrilled to host public events at our branches in the three cities where WSU has clinical campuses as well as in Spokane at the university's Health Sciences campus.
Reaching the third year of the burgeoning medical school was a much-anticipated accomplishment for WSU, the students and the state. Like other parts of the country, Washington needs far more health care providers, especially in rural areas. The third-year students, called white coats, get clinical training at the campuses and surrounding communities, with the goal of them pursuing careers in state.
Tours of the high-tech mobile health care unit were offered at each stop. Guests learned how it would be used to bring care to the state's rural and underserved areas. That's teamwork building stronger, healthier communities.
Pictured above: Banner Bank Commercial Division Director Tony Klein introduces representatives of WSU College of Medicine and Range Health during a news conference at our branch in Richland, Washington.