J.D. Power Ranks Banner Bank Highest in the Northwest for Customer Satisfaction for Third Straight Year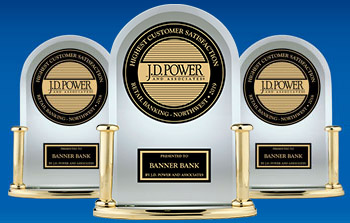 Banner Bank again ranked highest in the Northwest region for customer satisfaction by J.D. Power according to their just-released 2019 U.S. Retail Banking Satisfaction Study. This is the third year in a row Banner Bank has earned this recognition.
"We are honored to be recognized for our service by J.D. Power for the third consecutive year," said Cindy Purcell, Executive Vice President of Retail Banking & Administration, Banner Bank. "Our exceptional employees deliver outstanding service to our clients every day and it's a powerful message to have their efforts acknowledged by this independent research."
The J.D. Power U.S. Retail Banking Satisfaction Study is the longest-running and most in-depth survey of the retail banking industry, measuring overall satisfaction of more than 84,000 retail banking customers this year alone. Banner Bank achieved the highest overall score in J.D. Power's Northwest region which includes Washington, Oregon, Idaho and Montana. Categories surveyed include products and fees, convenience, account opening, communication and advice, channel activities, and problem resolution. From that data, J.D. Power publishes the highest-ranked banks in each of 11 regions across the U.S.
To view the J.D. Power press release regarding their 2019 U.S. Retail Banking Satisfaction Study and learn more about J.D. Power at
www.jdpower.com
.