The U.S. Small Business Administration Again Names Banner Bank Washington Regional Lender of the Year, with added honors in Oregon and California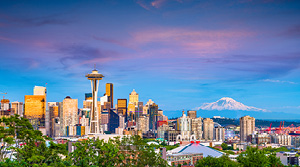 Banner Bank's commitment to small business lending earned the bank numerous awards from the U.S. Small Business Administration again this year. Banner was named Regional Lender of the Year for the Seattle/Spokane District of Washington, Star Performer in the Portland, Oregon District, and a National Lender Recognition Award in the Sacramento, Calif. District. The awards were presented at separate ceremonies as part of National Small Business Week.
This is the seventh straight year the SBA recognized Banner Bank's commitment in Washington. This is the fourth year Banner received the Star Performer Award in Oregon and the third year of recognition in Northern California.
"We're proud of our long-standing commitment to small businesses and the important role they play in our economy," said Mark Grescovich, Banner Bank President and CEO. "This recognition validates the hard work of our employees who help business clients access the capital they need to grow, expand and thrive."
The SBA announced Banner Bank originated the most loans last year among all banks serving Washington State, approving 174 loans totaling $40,462,420. The agency named Banner its Regional Lender of the Year for the Spokane/Seattle District at the Washington Small Business Awards Gala Wednesday night. The SBA's Seattle/Spokane District includes the entire state of Washington except for a small geographic region that includes Vancouver, Wash., which is included in the Portland District, due to proximity.
Banner Bank closed 51 loans in Oregon's Portland District during the SBA fiscal year, totaling $4,527,500. Earlier this month, the SBA presented Banner with its Star Performer Award for demonstrating "lending excellence" closing at least 20 loans during the agency's fiscal year. The SBA's Portland District includes Vancouver and 30 of the 36 Oregon counties. Only the six most eastern counties are not included as they are assigned to the Boise, Idaho District.
The SBA also presented Banner with a National Lender Recognition award in the Sacramento District for originating 23 loans last year totaling $3,190,600. This district covers the 21 counties of northeastern California.