Meet Jessica Peters, a three-time rodeo queen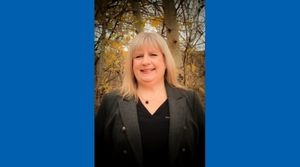 A three-time rodeo queen, Jessica Peters never acts like royalty. Instead, our Vice President and Marketing Services Manager is skilled at rolling up her sleeves and wearing multiple hats to get the job done. That's a trademark of this 21-year employee whose career growth parallels that of the Bank.
Jessica joined us as a marketing assistant, and worked a quick two weeks before her baby son arrived early. After a month of leave, Jessica returned as the third member of our Marketing team and has rarely slowed down since.
Having attended college intent on a career as a veterinary technician, Jessica pivoted and set out to master the many aspects of her job, from budgeting and coordinating events to creating newsletters and working with the media. Over the years, her titles changed and her responsibilities grew as the Bank more than doubled in size.
As liaison to our Community Banking teams and leader of a design group, Jessica manages the Bank's novelty program and branch merchandising, supports events, oversees printing and mailing, and manages sponsorships and contributions and much more.
"Everything I take on, I do wholeheartedly," she said, noting, "Everyone here over the years has been so helpful. I never felt I couldn't reach out and ask a question."
Her gusto is not confined to the office. Growing up riding and competing on horses, she's been active on the Milton Freewater Pioneer Posse Board (among others) for years, serving as president from 2015 to 2018. She and her husband manage several acres of hay and pasture, and have a small herd of cattle.
Jessica enjoys camping and other outdoor activities, and is equally at home in the kitchen. During her fall vacation, she canned 40 pounds of tomatoes—half diced, half as spaghetti sauce.
"I love to cook," she said, "and I never learned to cook for small numbers of people," which explains her big family dinners and many welcome guests.
Grateful to live and work in her hometown of Walla Walla on a team she appreciates, Jessica said, "I love the challenges. It's always different. There's always a new initiative, and I love the people I work with."