Meet Matt Kowal, a true team player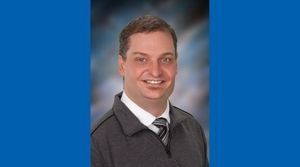 Anyone who visits with Matt Kowal quickly understands why he is valued as a colleague and a leader. The Vice President and Business Client Manager is not just an upbeat people person, he's a people-first person. And his thoughtful approach to guiding by the Golden Rule and treating others the way he'd like to be treated is part of what makes him such a good fit for our team.
"I love building relationships," he said, noting he feels as comfortable talking with the CEO of a Fortune 500 company as with the owner of a local flower shop. That perspective serves him well in his role helping business clients get the most out of their relationships with the Bank.
Of course, Matt also has some serious financial and client service chops. He started his career as a teller and personal banker, and has served as a portfolio analyst, assistant branch manager, branch manager and retail division manager. He has a bachelor's and master's degree in business administration, the latter of which he earned while working at Banner. A member of our team since 2005, Matt attended the Pacific Coast Banking School in 2017-2019, while managing a branch, and graduated from the master's level extension program in 2019. He received a Banner's Best Award in 2018.
Matt is a true team player. During the rush to obtain Payroll Protection Program financing when the Small Business Administration launched the program in 2020, he eagerly worked long hours trouble-shooting to help businesses obtain the loans they needed.
"Banner really cares about people. I mean they really, really care," he said, noting the Bank focuses on doing the right thing for clients, the community, employees and stockholders.
Born in New York, Matt lived in Germany twice as youngster before settling into Eastern Washington where he attended high school and college. When he moved to Southern Oregon to be a branch manager, it felt like a natural transition for Matt and he fell in love with the area. So when he's not working, this enthusiastic banker enjoys hiking, golfing and exploring the region with his family.