Meet Ricardo Macedo, a trilingual manager skilled at fostering talent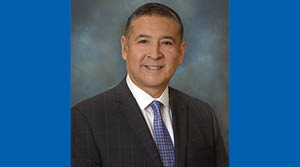 It seems San Diego native Ricardo Macedo was destined to lead a commercial banking team. Born into a large family of entrepreneurs, Ricardo sought to forge his own path after earning a business degree at San Diego State University, but was unsure of his career goals as he completed college in 1997.
Having worked various jobs including cashier at his grandfather's grocery store, Ricardo knew he liked dealing with business people. A chance visit with a friend of his grandfather led him to apply for a bank training program and discover his aptitude for commercial banking.
Since then, Ricardo has served leadership roles with national and regional banks and a successful startup bank. Along the way it became clear that, in addition to serving clients well, Ricardo had a gift for developing talent. It's part of his job he particularly enjoys as manager of our San Diego Commercial Banking Center.
"I can teach people," he said, "because I learn from my mistakes."
Ricardo describes client service as an art form, noting, "It's not innate; it is learned. … I got good at this because I was trained."
As mentor, he respects that "all people operate their own way." They have to be true to themselves, he said, yet handle the responsibilities of the job. For example, a relationship manager needs the skills to analyze financials, has to communicate with the client, and has to get comfortable asking difficult questions.
Rather than tell team members exactly how to do the job, he encourages them to do research, prepare for meetings and reflect on the process and outcome. The advice he applies to his own life: "Always be learning because things are always changing."
Away from work, the father of three enjoys attending dance recitals and youth football, soccer, baseball and T-ball games. He applies his financial acumen on two community boards, including First 5 San Diego, and as a member of the Bond Oversight Committee for the San Ysidro Elementary School District.
Ricardo is fluent in Spanish. He can also hold a conversation in Italian, thanks to his six months as a college student in Italy.