Meet Steve Espino, a guitar-playing leader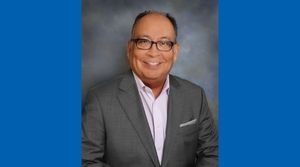 Building on more than 25 years in leadership roles, Steve Espino is having the time of his life mentoring Banner team members in the early stages of their careers.
"To see others grow and succeed," he said, "is really satisfying."
The Senior Vice President and Southern California Commercial Division Director leads a cadre of about 20 people, from relationship managers to loan specialists. Collaboration is a key aspect of his team's service-minded approach.
Steve has been collaborating with others since organizing his first band at age 13. There he learned it takes communication and work to blend a group's talents and know when to let an individual shine. Those lessons stayed with him, and the concepts of teamwork, collaboration and balance became integral to his management style.
The first in his family to wear a suit and tie to work, Steve started his career when, he observed, "there weren't a lot of people who looked like me in commercial banking." But he had good mentors and feels the obligation to pay it forward.
In 2002 Steve and other veteran bankers formed a community bank that in time merged into Banner. Here he applies his enthusiasm and expertise to support the success of clients, fellow bankers and the community. He meets regularly with team members, advises on their career plans, accompanies young bankers on client visits, imparts the power of storytelling, and much more.
"To be successful in what we do," he said, "we have to be able to communicate complex concepts in a simple way. Storytelling is a great way to convey information and concepts."
Music remains one of Steve's great joys. A guitar player for more than 50 years, he owns two ukuleles and eight guitars. He's played in a mariachi band, a cover band and a jazz band, to name a few. The pandemic temporarily sidelined public performances, but didn't dampen Steve's zeal for singing and playing. At one point he staged a socially distanced concert for his neighbors.
"A longtime neighbor tipped me with a roll of toilet paper and thanked me for a much needed reprieve," he recalled with a laugh.
Lately, Steve performs for small gatherings of friends and family, and finds time to give his all to programs like Bike for Humanity.