Meet Annette Campista, a dynamic leader with a distinct recipe for success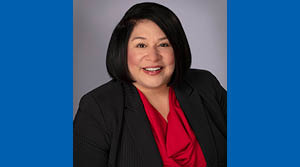 There may be no exact formula for success, but if you could bottle a recipe based on Annette Campista's career, it would include wit, grit, hard work, mentorship and a drive to learn and serve.
The affable manager of our Portland Business Banking Center began her professional journey as a college student working as a bank security officer. An employee of that bank recognized Annette's potential and encouraged her to join their account reconciliation team. She did and also worked in human resources and earned an HR certificate at Portland State University.
Her interest in reading and applying all she could on finance, leadership and bank regulations—plus a desire to job-shadow experienced leaders—had Annette leap-frogging her way into supervisory positions. She excelled as her burgeoning career edged out time to complete her business degree.
"I knew I'd have to work harder to do reading and study," she said.
Employed by national and regional banks for more than 20 years, the senior vice president has led home equity loan teams, served as a branch manager and pioneered a business banking division. Now Annette leads a team of bankers who support and advise business owners. She enjoys representing the Bank and helping companies grow in this economy.
Noting she had "amazing mentors," Annette said, "I try to give the gift of knowledge to my team."
As for the grit that got her here, Annette gained that early when she and her brother became the first kids of color at their school. She faced a few obstacles, but an aptitude for sports and a loving family helped her navigate the next few years.
Having experienced food insecurity and worked in the fields picking strawberries as a child, Annette is passionate about representing and supporting the Latino farmworker community. She serves on the board of the Farmworker Housing Development Corporation, is a founding board member of PODER (meaning POWER) and is active in the Latino network, Unidos of Oregon. She's also on the Salem Hospital and Clinics Board of Trustees and was named one of the Portland Business Journal's 2023 Women of Influence Award Winners.
Annette joined our team in April 2022, and remains impressed by the Bank's leadership, financial strength and commitment to diversity and work-life balance.