Meet Erin Kloes, a math-minded manager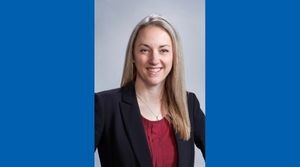 With an aptitude for numbers and innate interpersonal skills, Associate Commercial Banking Relationship Manager Erin Kloes exceeded her own career expectations and carved out a unique role on our team.
Raised in Spokane, Wash., Erin earned a degree in mathematics with a minor in analytical finance from Gonzaga University. She started her banking career in 2002 as a part-time teller at a small bank, where she took on increasing responsibilities and gained expertise in diverse areas of banking.
Erin joined Banner in 2006 as a credit analyst to support our commercial banking group. She soon added managing client relationships to her responsibilities and was promoted to her current position in 2013. Eventually, she started managing and training our Spokane commercial credit analysts and before long was also leading our lending support team. Wearing multiple hats, Erin still manages a few client relationships.
"I never would have pictured myself in this role," she said. "The Bank and my leaders helped me grow and develop, and even pushed me out of my comfort zone to become a manager—and I really appreciate that.
"In our division at Banner, we have a lot of long-time employees because the Bank's leaders have encouraged growth and leadership. I try to pass that along and mentor others."
Away from work, Erin enjoys travel, camping, hiking, snowshoeing and spending time with family. She also volunteers through her church, delivering meals and gifts to families in need.