Meet Jennifer Salmon, a bread-baking banker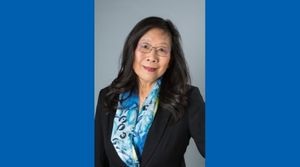 Our Information Systems and Analytics Director Jennifer Salmon has a say-yes approach to new challenges and opportunities. That trait, along with her interest in how things work, played a big role in the one-time teacher's transition to a career in information technology (IT).
In terms of profession—and geography—Jennifer has traveled quite a ways since her three years teaching middle school English in Taiwan, where she was born and raised. The Senior Vice President, who majored in education, left teaching to pursue a career in manufacturing. After more than 15 years with prominent companies, Jennifer was recruited into banking and introduced to IT in 2005.
She put her analytical mind to work on process improvement in IT and many business operations. In 2017 Jennifer joined our team as an Information Analytics Manager, and was promoted to her current position in 2020. She received a Banner's Best Award that same year.
"I have always been lucky to have great mentors and colleagues who are willing to take a risk and give me an opportunity," she said, "I just say 'yes'."
Here at Banner, Jennifer leads teams that support internal clients in order to best serve external clients. Team members analyze data, write code to provide solutions and guide decision making, and smoothly integrate disparate systems from different vendors.
Away from work, Jennifer enjoys playing the piano and singing, reading books, watching British mysteries, and riding motorcycles and traveling with her husband. Ever-fascinated by process, she took up bread baking during the pandemic. After her first two loaves came out in her words "not edible at all," she continued experimenting and now successfully bakes bread a couple times a week.
"I enjoy watching how things are made and what makes it different from one time to the next," she said.