Pay with your mobile device
Enjoy all the benefits of your Banner Bank debit or credit cardπ using Apple Pay, Samsung Pay or Google Pay on your supported Apple, Samsung or Android device. Digital wallets offer an easy, secure and private way to pay in stores with your smart phone.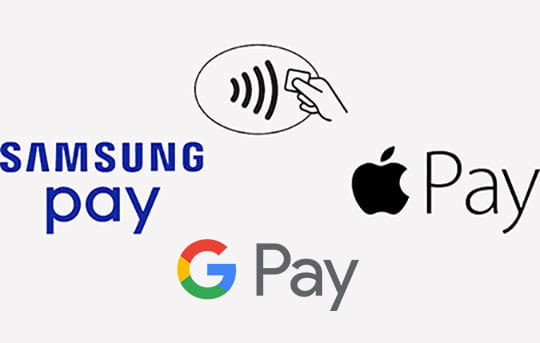 How to pay with your mobile device:
Use your smart phone anywhere you see the Apple, Google or Samsung Pay payment symbols.
To pay, unlock and authenticate your device (passcode, fingerprint, Face ID).
Place your device near the reader until you see "Done" and a checkmark on your screen.
How to enroll your mobile device:
If needed, install Samsung Pay, Apple Pay or Google Pay on your smart phone.
From your device, open the payment app and 'add credit or debit card.'
Use the device camera to capture the card information or enter it manually.
You may be asked to verify your identity by either calling us at 800-272-9933, or by receiving a secure access code via email or text message.
π
At this time, digital wallet services are not available for the Banner Bank Commercial Mastercard®.