3 Myths Dispelled... And Why Your Business Should Consider Exporting
Import-export
International finance
Business planning
Commercial lending
SBA loans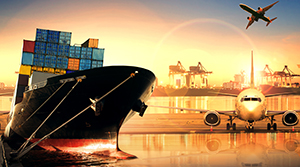 Many business owners would like to expand their business to international markets, but often fear the complicated or unknown issues that surround rules of export and international trade finance. In this blog, we've identified three of the most common reasons business owners avoid expansion to international markets and how to overcome those issues.
1. Myth: It's too complicated to export

While exporting goods and services can be more complicated than domestic sales, business owners may find the revenue potential of foreign markets worth the extra effort. In fact, there are a number of local and regional organizations devoted to supporting businesses to find success in international markets, and help them navigate the complexities, such as issues with Customs, understanding foreign exchange markets and finding the right banking and finance partner. Check out the Small Business Development Center (SBDC), the U.S. Department of Commerce/ International Trade Administration, the Export Finance Assistance Center for Washington and Business Oregon.
2. Myth: My business is too small

Businesses of all sizes find success in exporting. In fact, Export Washington highlights small business success stories, like how a hay grower from Ellensburg became one of the top 50 exporters in the U.S. or how a sports equipment manufacturer in the Columbia Gorge reaches customers in 60 countries.

In addition, there are a number of government programs and tax advantages specifically for exporting that can benefit your business. The U.S. Department of Agriculture offers export financing programs. Plus, there are possible tax incentives for establishing an Interest Charge Domestic International Sales Corporation (IC DISC) for your company if it meets the requirements.

If the demand is there for the product or service your business provides, don't let size hold you back. With a solid business plan, businesses of all sizes can be successful in exporting. We find that some companies start by exporting to our neighboring countries, Mexico and Canada, to learn the nuances of selling "abroad."
3. Myth: My competition is too tough

A solid business plan should already include product demand and potential for growth. Don't overlook foreign markets as a source of revenue. In fact, products manufactured in the U.S. have a reputation for quality and are desired around the word, which provides a distinct advantage for U.S.-based businesses.

If you are considering exporting as a future growth opportunity, look for a banking partner who can help you navigate the complexities of financial markets to ensure your business has the ability to make and accept payments. What questions do you have about growing your business to international markets? We invite you to learn more about Banner Bank's International Services and contact Joe Timmons or Debbie Gelbach to learn more.