Agricultural Lending
Business Lines of Credit
Commercial Lending
Import-Export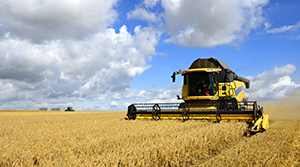 Spring is in the air and, for those in farming, the busy season is in full swing.
The west coast is home to a diversity of agricultural crops. This region boasts some of the nation's most prominent producers of hops, spearmint, peppermint, lentils, wheat, apples, berries and grape varietals. Whether you're talking about a chickpea farmer in the Palouse or a flower bulb nursery owner in the Coastal valleys, the hard working agriculturists throughout the western U.S. grow some of the finest products in the world.
Annual crop production in our Northwest region – Oregon, Washington and Idaho – is valued at nearly $12 billion combined, according to Departments of Agriculture from each state. The success of agriculture is vital to Northwest economies, yet is a delicate business dependent on many hard-to-control factors like Mother Nature and other down-stream processes.
An early June rain shower in Central Washington is a delight for the dry land wheat grower and the row crop farmer, but can be disastrous for the cherry orchardist, wreak havoc on pollination in a seed crop, or cause hay crops to become worthless. Having a winter without snow is a cause of great concern to irrigators and dry land farmers who simply have to make do. Lack of an adequate work force at harvest time is disastrous regardless the wage paid. The recent work slowdown at coastal ports resulted in commodities that deteriorated in quality and value – and buyers simply walked away. An outstanding corn crop in the Southern Hemisphere has resulted in price reductions here. These are but a few of the challenges the ag-industry faces every year.
When it comes to the success of an agriculture business, liquidity is key. To overcome the natural and man-made agricultural challenges throughout the year, owners and operators need adequate access to cash beyond crop insurance to endure a multitude of potential outcomes.
In addition to risk, anyone in the ag-industry will tell you farming is capital intensive and a strong partnership with an agribusiness banking expert is key. When considering expanding an operation through the purchase of real estate or equipment, it is imperative to consider the anticipated useful life of the asset and determine stable income sources to meet loan repayment terms.
Partnering with a lender who has demonstrated expertise of the unique demands agricultural businesses face can help farmers and ranchers be prepared to weather any eventuality. When considering a financial partner, farmers must ensure the banker understands their product cycles, can provide loan terms that work within that cycle, demonstrates the ability to tailor financing options to their specific situation and can serve as an adviser to help them manage risk.
What questions do you have about agricultural lending?
Recognized as one of the top agribusiness lenders in the U.S., we could go on all day about how important it is to support our farming communities. Learn more about Banner Bank's expertise in
agricultural financing
.