Act Now to Protect Yourself and Your Home from Wildfire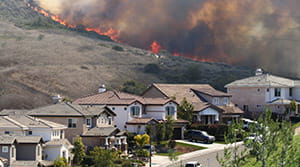 Your home is a major financial and emotional investment. It shelters you and your loved ones over the course of years and through changing seasons. As wildfires become an increasing challenge throughout the West, it's important to protect your home and property, especially if you live in an area prone to wildland fire.
While none of us can make it rain or snow, we can make our surroundings safer and mitigate the risk of loss due to fire. Research shows as many as 80 percent of homes lost to wildland fire may have been saved if brush had been cleared around the homes and defensible space created around structures.
Experts recommend a range of steps to do just that. Here are a few to get you started, along with resources to learn more.
Ways to make your property more resistant to wildfire:
Keep your roof, gutters and areas close to your home and other buildings free of pine needles, dry leaves and other debris that can be ignited by small burning embers that can travel several miles from the perimeter of a wildfire.
Move firewood at least 30 feet from the house.
Remove dead vegetation from plants and lower branches from tall trees.
When landscaping your yard, consider planting fire-resistant plants.
Trim trees regularly to keep branches at least 10 feet from other trees, and remove branches that hang over your roof.
Use roofing materials with a Class A fire rating (the highest) and install metal angle flashing at the edge of the roof.
Know and follow outdoor burning rules for your area.
Create defensible space—a buffer—around your home, beginning with the zone 0 to 5 feet from your house:

Remove or relocate combustible materials, including outdoor furniture, lumber and firewood. Replace jute or fiber door mats with fire resistant materials.
Avoid planting vegetation close to your home.
Remove or trim tree limbs that extend into this zone.
Do not store firewood, lumber or other combustible items under the eaves or deck.
Use inorganic, non-combustible ground cover/hardscape such as stone or gravel rather than wood chips or bark.
Consider relocating garbage and recycling containers outside this zone.
Follow a lean and green approach to the remaining areas of your property.

Connect with neighbors and consider starting a Firewise USA® Recognition site. Administered through the National Fire Protection Association linked below, the Firewise USA Program offers education and encourages homeowners and communities to prepare for wildfire.
Have a plan so you're ready leave quickly if you need to evacuate.
Taking action today can help ensure you have a place to return to when the smoke has cleared. Learn about creating defensible space, hardening your home, creating an evacuation plan and more at Ready for Wildfire and the National Fire Protection Association.