Forbes Names Banner One of America's 100 Best Banks for Sixth Year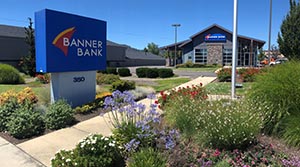 Forbes again named Banner Bank one of the 100 Best Banks in America in their 2022 poll. This is the sixth consecutive year Banner has made the list—coming in at number 25 this year.
"This independent third-party recognition is especially meaningful because of how much our industry has changed in recent years—particularly during, and due to, the pandemic," said President & CEO Mark Grescovich. "Here at Banner, we're actively evolving to remain relevant to our clients in the markets we serve. Ultimately, it is our employees that make this possible."
This is the 13th year Forbes has ranked U.S. Banks. They used data provided by S&P Global Market Intelligence to look at growth, profitability and asset quality from bank regulatory filings through September 30, 2021. The 10 metrics they considered were: non-performing assets as a percentage of total assets; reserves as a percentage of non-performing assets; CET1 ratio, which compares a bank's capital against its risk-weighted assets; risk-based capital ratio; return on average tangible common equity; return on average assets; net interest margin; operating revenue growth; and net charge-offs as a percentage of total loans.
Read Forbes' full article, including the complete list of America's Best Banks.