Banner Named One of the Most Trustworthy Companies in America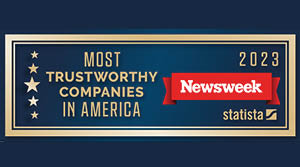 In late March 2023, Newsweek named Banner one of the 2023 Most Trustworthy Companies in America. The list is comprised of public and private companies—all with more than $500 million in revenue. This year, 23 different industries are represented and we are in good company with well-known national brands. What's more, Banner ranked very well at number seven of the 37 companies that made the list in the banking industry category.
Newsweek, in collaboration with market research partner Statista, used a three-step 'holistic approach to evaluating trust,' including an extensive survey of U.S. customers, employees and investors. They asked how much they agreed with statements like "I trust in this company to treat me fairly as its customer," "I believe this company offers good opportunities for career development," and "I believe this company would be a good long-term investment." A total of 95,000 evaluations were received, which guided Newsweek and Statista to their final step, a social listening analysis, before forming the final list.
"Being recognized as one of the most trustworthy companies in the nation is a tremendous compliment, especially considering the rising rate environment last year and the first quarter 2023 market disruption," said President and CEO Mark Grescovich. "Receiving this level of acknowledgement further affirms our clients value the outstanding service, advice and guidance they receive by our top-notch team."
View the Newsweek article
and full list of all companies on the Newsweek 2023 list.