Four Tools to Support and Simplify Your Export Business
International finance
Import-export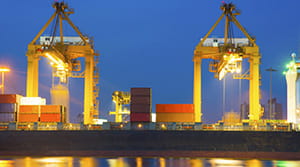 If your company exports goods or services, you know international commerce offers its own challenges and opportunities. Navigating those avenues gets a lot easier when you have the right tools and expertise to guide you.
Here are four helpful tools that can add cash flow, security and peace of mind to your export business:
Export Letters Of Credit – This payment method has a prominent place in today's global marketplace. Issued by a bank in a foreign country at the request of your buyer, a commercial letter of credit ensures you are paid in full for goods shipped, as long you adhere to conditions set in the letter of credit. The bank's guarantee of payment reduces risk of buyer nonpayment.
Documentary Collections – A low-cost payment option for international shipments that lends security and legitimacy. With these transactions, the buyer's bank acts as an escrow agent and holds documents, often including title to the shipment, until the buyer makes payment.
Wire Transfers with Credit Insurance – International wires offer an inexpensive way to receive global payments. As an add-on to these wires, exporters can mitigate risk of buyer nonpayment by obtaining export credit insurance through the U.S. Export Import Bank or a credit insurance company.
Government-Backed Export Financing – Many guaranteed loan products exist to help businesses obtain capital to sell goods in another country. Examples include the U.S. Small Business Administration (SBA) International Trade Loan and Export Working Capital Loan and the U.S. Export Import Bank Working Capital Guarantee. Designed to promote exporting, these programs provide financing and offer a 90 percent loan guaranty to a bank, reducing the risk lenders might face with respect to trade finance.
A trusted banker who understands your company and your industry can help determine the best options for you. Whether you are an experienced exporter or just dipping your toes into overseas trade, you'll benefit from working with a bank that has a team of trade finance experts and lending specialists. Together, they should offer the right type and blend of financing and transnational solutions for the way you do business.
Learn more about tools for conducting business internationally with Banner Bank's experts.