Making the Foreign Familiar
Business lines of credit
Business loans
Commercial lending
Import-export
International finance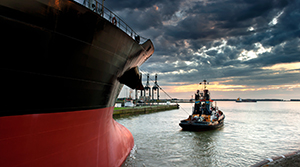 If your company imports merchandise or supplies, you know the goods have to arrive on time and in the proper condition. Many importers don't realize there's a tool that lets you facilitate payment, ensure your items arrive on time and control other aspects of delivery: commercial letters of credit (L/C).
This reliable solution has been providing peace of mind for a long time. Our own government used letters of credit during the Revolutionary War.
Whether you're a frequent importer or just dipping your toes into the world of international trade, the L/C offers several advantages. Yes, it is a fee-based product, but before you write it off, consider what it can do for you. The convenience, cost savings, security and peace of mind this instrument provides might surprise you.
It originated as a way to ensure that a seller will receive payment up to the amount of the letter of credit. Often in the world of international transactions, the buyer and seller don't know each other personally. They come from different countries and cultures, speak different languages and follow different monetary and legal systems.
The letter of credit brings a commonality to the transaction and mitigates risk for the buyer and the seller. Each document is structured in a similar manner and is subject to globally accepted rules created by the International Chamber of Commerce. The letter of credit is issued by the buyer's bank, guaranteeing payment to the seller, provided the conditions set in the L/C—like the delivery date—have been satisfied.
For a buyer, the many advantages of a letter of credit include:
No advance payment due to the seller
You control the delivery date
You can require special documentation that may be needed for unique customs clearance
You can be assured that your documents will be screened for compliance with U.S. regulations
The advantages add up to convenience and cost savings. By not having to provide a down payment, you can hold funds longer. By indicating a latest shipment date, you ensure that you don't pay if your order ships late. That's crucial if you're ordering perishable, seasonal or holiday items. And if you're importing products that need special documentation for customs clearance, requiring that document in the letter of credit avoids delays and confusion when the vessel arrives. Plus, the issuing bank acts on your behalf to ensure that all conditions are met before making payment, so you can concentrate on other aspects of your business.
The seller also benefits knowing they have a bank guarantee of payment if they meet the terms of a letter of credit. In many countries, a seller can use the L/C to obtain financing from their bank to purchase supplies and ship merchandise. In that sense, a letter of credit helps keep international transactions running smoothly.
Learn more about letters of credit or other solutions for conducting business across the globe with Banner Bank's experts.