Four Travel Tips For Financial Convenience On The Go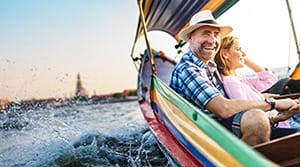 Just as savvy travelers verify flight times before departure, it's wise to plan for financial agility throughout your journey. Carrying a blend of cash, foreign currency and credit or debit cards adds safety and convenience — but it has to be the right combination for you and your destination.
Cash
While Americans are increasingly comfortable with swipe or plug-and-go technologies, there's no denying the convenience of cash for quick, small transactions. ATMs make it easy to get enough cash for a few days without carrying a wad of bills.

Tip: See if your bank waives or refunds ATM user fees. Some checking accounts extend fee-free withdrawals at any ATM in the U.S., not just their own. That can add up to real savings if you make multiple withdrawals hopscotching historic lighthouses or getting your kicks along Route 66.
Currency
Although digital pay is gaining popularity around the globe, cash is still king in many countries for historical and political reasons. In Germany, a society that dislikes debt, shoppers prefer cash. Japan, Spain and India also rely heavily on cash. That preference influences how transactions are handled, and seasoned travelers know going local has advantages. Who wants to hold up the line with plastic when the cashier expects cash?
Tip: Research payment preferences for your destination and buy local currency before you go. Check your bank's online travel advice center; you may be able to order foreign currency or a loaded cash card delivered right to your door. Wherever you're going, a bit of local currency can be handy if you want to buy a quick snack or tip a driver before finding an overseas ATM.
Credit
While certain countries favor cash, others like Sweden are cash-adverse. Rather than loading up on Swedish Krona, if that's your destination, make sure you have a credit card that's chip enabled for security and accepted world-wide.
Tip: Choose a secure chip card that meets your needs as a business or personal card. Consider your spending and payment styles; if you ever carry a balance, go for a lower annual percentage rate over rewards.
Communication
Just as forest rangers suggest telling someone your plans before you take a hike, banks ask you to let them know before you take a trip. Both have your well-being in mind. To protect you and your money, banks watch for unusual activity on your debit and credit cards—including use in unexpected cities.
Tip: Contact your bank before you go to help ensure continuous access to your funds here and abroad.
Once you have a payment strategy and tools suited to your journey, safeguard your cash and cards along with your passport or other ID. If you need further advice on travel finances before you go, contact your local Banner Bank branch or visit the travel section of our website.