Campaign to Feed the Hungry Pivots and Soars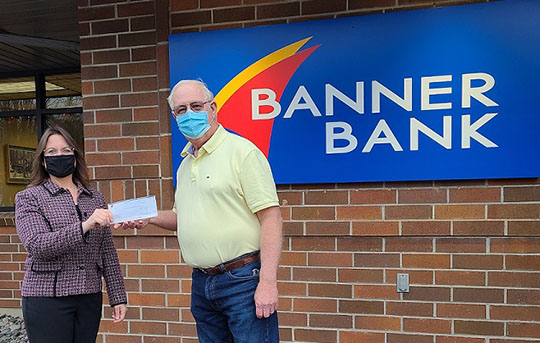 Each year the team at Banner has the good habit of collecting food and funds to help ensure families have plenty to eat in the four states we serve. But as the pandemic increased food insecurity for many, it also limited our ability to gather and collect food. Not to be deterred, our team rallied and in November 2020 the Fall Food Drive became the cash-focused Campaign to Feed the Hungry with a goal to raise enough money for 50,000 meals.
Thanks to our clients, employees and the community, we easily surpassed that goal, collecting $41,200 for donation to 81 local food banks and charities. An advantage of partnering with experienced local charities, is that every dollar donated can provide five meals, according to data provided by several area food banks.
Banner Bank also made significant financial contributions to community organizations to help make nutritious meals available for people feeling the economic impact of the pandemic and wildfires in our region. With school closures, the added support was appreciated by families whose children rely on meals at school to help fill the gaps.
"It was amazing to see how enthusiastic our branches and employee teams were about the fundraiser," said Courtney Titus, Public Relations Specialist and campaign coordinator. "Our partners eagerly took part in Zoom meetings, welcomed funds at their drive-ups and celebrated each contribution. People just embraced the idea of supporting the community in whatever way they could."
Pictured above: Our Orofino, Idaho Branch donating funds for Lifeline Food Pantry.