Teaming Up to Tackle Hunger, Together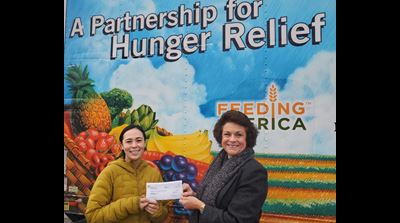 No one should have to go to bed hungry. So each year we conduct a drive to raise funds to help ensure that people don't go hungry in the communities where we work and live. We partner with community organizations in all four states we serve that are experienced at reaching folks who need a hand putting food on the table.
The USDA found that roughly 13.5 million Americans struggled with food insecurity in 2021, meaning at some point, they were uncertain of having enough food to meet their needs. Despite rising inflation and a challenging economy, our teams took action this year to help lower that number. Our 2022 Fall Fund Drive brought in more than $51,765 for our local communities and helped support more than 85 different food banks and food-assistance programs across our four-state region.
While our client-facing branches and offices collected funds, our back-office support teams were invited to donate canned or packaged goods and brought in 865 food items. Our Bothell Operations location collected 631 items, more than tripling their 2021 total, and our Client Engagement Center (CEC) and Spokane Ferrall Support Center (Payment Operations, Commercial Loan Servicing and Central Deposit) collected more than 234 items.
Thanks to generous clients and community members, our branch teams collected $22,149.90 in Washington, $11,934.16 in Idaho, $10,009.72 in California and $7,671.88 in Oregon.
Contributions were made to various charities across our footprint with roughly 51 in Washington, including the Salvation Army and the Bellingham Food Bank; 25 in California, including the San Diego Food Bank and Great Northern Services; eight in Idaho, including Valley House Homeless Shelter and Community Action Partnership; and 26 in Oregon, including Boardman Senior Citizen and FOOD For Lane County.
We couldn't do it without all of you. Thank you for helping our communities!
Pictured above: Check donation presented to Josephine County Food Bank in Grants Pass, OR.