Annual Food Drive Sets a Record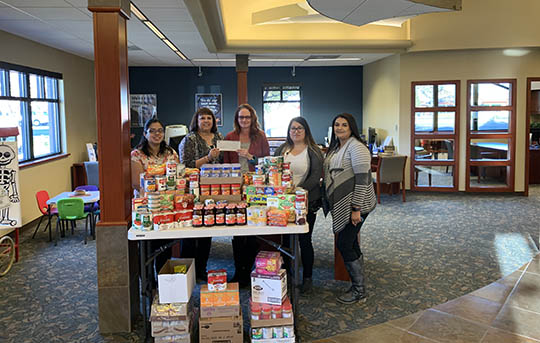 More than 37 million Americans live in food-insecure households, according to the USDA. To do our part to change that, we partner with food banks and food pantry organizations all year to help stock their pantries through cash donations and employee volunteerism.
Our annual Family Food Drive is our largest engagement on this important issue. For a month each fall, we focus on collecting cash and food donations destined for local non-profits supporting families in every community we serve. More than 105 different charities—selected by our employees—benefitted from our most recent drive.
Thanks to the enthusiasm of employees and clients, our fall 2019 drive set a new record collecting $30,408.57 and 26,227 cans/packages of food. This far exceeded our previous record of $26,299 and 20,613 items.
Pictured above: Our Twin Falls (Idaho) Branch team collected funds for their local South Central Community Action Partnership.