Annual Fund Drive Breaks Records to Put Food on Local Tables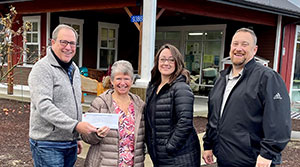 The Bank's most recent fall fund drive was a roaring success that broke previous records to support the communities where we live and work. Due to the pandemic, we again had to forego a traditional food drive, opting instead for a hybrid campaign. Client-facing branches and offices collected funds, while back-office teams were invited to donate canned and packaged foods. We kept our tradition of having local teams select the benefitting charities.
The October 2021 Feeding Families Fall Fund Drive brought in more than $61,496 for 92 different nonprofit organizations across our four-state region, far surpassing the previous year's total of $41,200 for 81 charities. Kudos go to the two support team locations that collected 1,343 food items: Spokane Ferrall Support Center (Payment Operations, Commercial Loan Servicing and Central Deposit) collected 1,168 items; and our Bothell Operations along with the Fraud and Security teams collected more than 175 items and also partnered with a local grocery store to 'purchase' 17 grocery carts of food for their charity.
Some of the brightest moments came as teams exceeded their goals, thanks to generous clients and community members. For example, our Rancho Cucamonga team set a goal to raise $2,021 for the Foothill Family Shelter. They were a few hundred dollars shy of that when a longtime client asked about the display in the lobby. He decided to give $100, then asked how much was needed to reach the goal. When he was told $500 after his initial donation he said, "No worries," and contributed a total of $600. More donations trickled in the next day, bringing the branch total to $2,077, one of the largest in our footprint.
Meanwhile, our Bothell Branch garnered one of the highest team totals—$2,292.62—thanks to a single generous contributor who donated $2,000. Of course, we know every donation counts. Thanks to everyone who took part!
Pictured above: Check donation presented to the food bank in Sedro-Woolley, Washington