Continuing our Commitment to Build Better Communities with Habitat for Humanity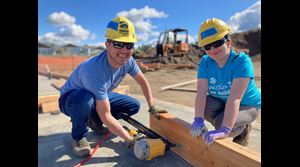 The idea that families and individuals deserve a safe and affordable place to live fuels our long-standing support of Habitat for Humanity which helps people achieve that dream across the globe. Each year we partner with Habitat chapters across our footprint by sponsoring fundraisers and engaging in volunteer opportunities. Here are a few recent examples:

Donning Hope, Hard Hats and Black-Ties to Fund Homes in Oregon
For nine years our Mortgage Consumer Director Dawn Holden has been a board member for Habitat's Portland chapter and sits on their auction committee. "I have learned so much over the years being on the board, holding officer positions and meeting many people—some, who now, are close friends," said Dawn. "I encourage everyone to find a non-profit that speaks to their passion and volunteer!"
We sponsored events, like the HopeBuilder Luncheon and Habitat's Hard Hat & Black-Tie Auction in Oregon that brought people together and raised vital funds for home builds in the Portland, Beaverton and Hillsboro area.
Taking on Trash and Bringing in Bucks to Create Community in California
Habitat impacted more than 10,000 individuals in Sacramento and Yolo counties in 2022 through build, repair and community projects—and we're thrilled to be a part of that accomplishment!
We also helped sponsor Rock the Block, a community event to raise funds to repair 22 homes, complete five community projects and host a neighborhood clean-up in less than 36 hours. Several Banner employees showed up to pick up garbage and build homes.
"I met a lot of people working in a field pulling weeds and picking up trash—we probably filled over 25 bags," said Mortgage Loan Assistant Anthony Peggins, one of our employee volunteers. "It was a really good experience and now that I know what to expect, I'm planning on doing it again next year."
Digging Deep to Help Support Our Neighbors in Washington
In Renton, we sponsored Habitat's annual Beyond the Build Luncheon, serving individuals and families in Seattle-King and Kittitas Counties. And in Spokane County, we were again the presenting sponsor for Habitat's Hope Builders Luncheon which helped raise funds to provide housing for 56 local families enrolled in Habitat's Homeownership Program—an achievement that inspires so many of our employee volunteers.
Our Spokane sponsorship also extends to Habitat's annual Blitz Build. Our Enterprise Risk Management Director James Numata is a board member for the Spokane Habitat chapter, and he joined 11 of our employees to volunteer during the build.
"The last few years have changed everyone's outlook on what it means to have a safe and affordable place to call home," said James. "I joined the board a couple of years ago, and have gained tremendous respect for the mission, staff and fellow board members."