Banner Again Named One of the World's Best Banks by Forbes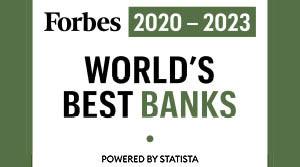 Forbes has named Banner Bank one of the World's Best Banks for the fourth consecutive year.
"Being recognized again as one of the strongest and most trustworthy financial institutions, not just in the U.S. but the world, is a tremendous compliment," said President and CEO Mark Grescovich. "Earning independent recognition from highly-reputable sources further confirms our clients recognize and appreciate our efforts to provide them with outstanding service and value."
To create its 2023 list, Forbes partnered with Statista to survey more than 48,000 banking clients in 14 languages and 32 countries, asking for their opinions on their current and former banking relationships. Banks were rated on general satisfaction (30% of final score) and whether the customer would recommend the bank (30%). The final 40% came from customer ratings in five key areas: trust, financial advice, digital services, customer services and terms and conditions.
The recognition from Forbes comes on the heels of Newsweek naming Banner one of the
Most Trustworthy Companies in America
, S&P Global Market Intelligence naming us one of the
50 top performing U.S. public banks
, and earlier this year Forbes named us one of the
100 Best Banks in America
for the seventh consecutive year.
See the entire
Forbes 2023 list of the World's Best Banks
.