Benefits of Money Transfer Services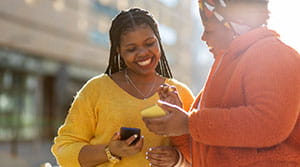 Paying people for goods or services or exchanging money for other reasons has evolved over time, and that is likely to continue in the years to come. One of the methods rapidly growing in popularity is P2P money transfers—short for peer-to-peer or person-to-person payments—where money is exchanged digitally through an application on a smartphone or computer.
What do you do if you need to pay someone immediately to buy something online? How do you split the cost of a dinner with a group of people? What's an easy way to send money to a relative in another city? The answer to all of these could be a P2P payment app.
P2P services have been around since the late 1990s. That's when PayPal was founded, and it is still the industry leader primarily because of its longevity, but there are numerous companies that provide essentially the same service, including Venmo and Zelle. While PayPal and Venmo are independent P2P services that act essentially as a third party outside of your financial institution, Zelle is a P2P service that is incorporated right within the online banking services of most large U.S. banks, including Banner Bank's online and mobile banking services.
How does P2P work?
P2P payment accounts are simple to set up. Depending on the service you choose, you'll sign up for an account and link your bank account or credit or debit card to it. After your account is set up you can find other users by their username, their email, or your phone contacts, making it easy to target where you want to send money.
Sending and receiving money is just a click or two away after that. You select who you are sending money to, the amount of the transaction, then submit the payment. Depending on which P2P payment service you use, the money can be transferred within seconds or minutes.
Benefits of P2P
In addition to their speed and ease of use, P2P services let you:
Skip the ATM and avoid carrying cash.
Easily track your finances, as P2P services log your payments.
Rest assured you pay only the amount you owe.
Request money and often see it quickly deposited into your account.
Banner offers Zelle
Banner Bank has added the Zelle Person-to-Person Payments service into our mobile and digital banking service. Zelle connects directly to your bank account and you can enroll through the Banner website or mobile app, eliminating the need to download or add an additional app on your phone or computer. It's a fast, safe and easy way to send money to almost any bank account in the U.S.
To learn more about P2P services or Zelle, you can always reach out to your local banker for assistance.