Digital Wallet 101
Digital wallet
Cyber Security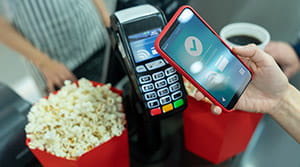 Digital payments are faster, easier and often more secure than many traditional payment methods. However, more than half of all U.S. consumers say they prefer credit and debit cards because they still don't trust their mobile wallet.

The consumer credit reporting agency Experian reported digital payments grew to $721 billion in 2017. But mobile payment methods are still being adopted at a slower rate due to safety concerns. The survey revealed 55 percent of all consumers are sticking with plastic.

Today, digital wallets use authentication, data encryption and monitoring to secure our personal information better than ever. Technology experts give high praise to mobile's security features which can more effectively protect apps from malicious malware.

When you start a payment, your smartphone and the merchant's terminal interact with each other in a way that doesn't reveal your account number. The use of Magnetic Secure Transmission (MST) and Near Field Communication (NFC) ensures your card details are encrypted on your phone, and one-time authorization tokens are transmitted to a merchant's terminal rather than card account numbers.

Modern mobile devices also employ face or fingerprint identification with a passcode lock available as a backup. These more advanced security features pave the way for a safe and secure digital wallet experience.

Always remember these basics for all digital-based payments:
Never give your username and password over the phone, email or text.
Use secure network connections and avoid public Wi-Fi.
Keep an eye on your accounts and monitor transactions for suspicious activity.
Be vigilant. Avoid clicking random links in texts or emails when using your smartphone.
Enable your phone's security features and keep them updated. This serves as the first line of defense between your information and hackers.
To learn more about staying safe online, visit our Banking Security page.