Protect Yourself from Bank Impostors
Cyber Security
Online identity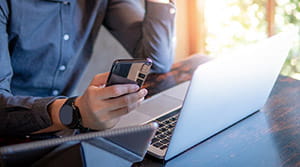 Identity theft is an increasing challenge of our times, with scammers trying to get information about individuals just like you. They use those details to withdraw funds, open fraudulent accounts and more in the victim's name.
Thieves apply various tactics to obtain information, including impersonating your bank, financial advisor, internet service provider, or other legitimate companies or government agencies including the IRS. Many are skilled at looking or sounding like organizations you know and trust.
But don't be fooled. Use this knowledge to thwart their efforts and protect yourself:
Never answer questions from any random phone call, text or email requesting information, even if it looks or sounds legitimate. Criminals have become adept at making emails look official and spoofing caller ID so the caller appears authentic—an activity you can report to the Federal Communications Commission at consumercomplaints.fcc.gov.


Never give out passwords, account numbers, log-in credentials, your birthdate, your full social security number or other personal information requested by people contacting you unexpectedly.


Rest assured, your bank will never call, text or email you asking for personal information such as your online banking password, debit card PIN number, expiration date or CVV on your card(s).


Your bank also won't call, text or email you asking you to change your PIN on the spot.


Identity thieves may use tidbits of information they've learned about you to gain your trust and get you to provide more information. Don't fall for it.


Some scammers try to charm you into providing information. Others use pressure, creating a sense of urgency, to unsettle you and get you to give them information. Some may even become aggressive if you don't readily comply. Your bank's representative would not behave that way. When it comes to protecting your information, it's always okay to end a phone call.


Simply tell the caller you'll call them right back and hang up. Then, call the phone number on the back of your bank's debit or credit card. For Banner Bank, you can also contact your local branch or call 800-272-9933.


Remember, your bank has your information on file, and won't call, text or email you to request it.


To report fraud, identity theft or unfair business practice, visit the Federal Trade Commission at https://consumercomplaints.fcc.gov/hc/en-us.