The Digital Factor: Four Ways to Boost Your Company's Cyber Security
Cyber Security
Online identity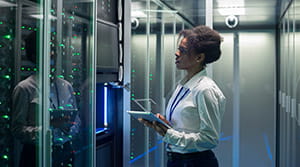 The ease with which businesses and individuals access information and process transactions today was unfathomable just a handful of years ago. Technology is so integrated with our business and personal lives, we often rely on it in ways that are now second nature.
As much as most of us enjoy digital convenience, it carries the potential for others to access our personal and financial information with criminal intent. To counter this, banks are always on high alert, investing millions of dollars each year to protect clients' data. But you play a vital role in preventing unwanted access.


If you own or manage a business, the best way to avoid becoming a victim of a cyber-heist is to keep would-be criminals out of the computer you use for online banking.


Here are four best practices to tighten your company's cyber security from a digital perspective:
Use a dedicated computer to access online banking. Your company's designated computer should be restricted from accessing all but a handful of websites needed to interact with online banking and manage your finances. This can be done using custom firewall rules and host files, or services like Open DNS. Making exceptions to these firewall rules—even occasionally—undermines the whole approach.
Patch software in a timely manner. Cyber criminals look for ways to exploit system weaknesses using viruses and malware, so it's important to install patches and updates from your operating system provider and software vendors. It's especially important to update the browsers you use to access online banking. If you're not receiving notices, mark your calendar with reminders to routinely check for updates and patches.
Protect computers and networks. Install security and antivirus software that protects against malware, or malicious software, which can access a computer system without your consent.
Back up important systems and data. Backing up the data on your work computers should be part of every company's cyber management routine.
As you aim to employ these best practices, count on your bank to be a helpful resource. They should offer programs such as Positive Pay to safeguard your company from unauthorized transactions, tokens for heightened security when accessing online banking, and security alerts for a range of online banking activities.

It's also vital to educate yourself. Check out these tips and resources to help protect your business online.
Now that you've considered digital factors to protect your business, read our blog on the role human factors play in securing your information.