Top Eight Digital Banking Tools for Time-Saving Convenience
Digital wallet
Online identity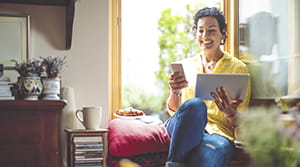 In today's busy world, time is the ultimate commodity. Many banks now offer a range of tools that save time and make it easier to do your banking when and where you want. The bonus is that they build in security to protect your identity and finances. Here are a few of my favorites. Check with your bank to see if they offer leading edge services like these:
E-Statements – Online "electronic" statements are delivered directly to you via a secure online portal, such as the bank's online/mobile banking, so there's no mail to be lost or stolen. You can review transactions without having paper to file, and you get more timely access to your statement without having to wait for the mail.
Digital Wallets – In addition to letting you pay for purchases on the fly via mobile device, digital wallets such as Samsung Pay, Google Pay or Apple Pay offer safety and security. These electronic payment tools are safer than using a physical credit or debit card because each transaction has a unique, one-time encryption code. That ensures your credit or debit card is never on file at the merchant. And, a digital wallet can free you from carrying cash or having contact with frequently touched surfaces.
Online Bill Pay – This secure online banking feature streamlines paying bills. It saves you from using postage and envelopes, and helps ensure you never miss a payment.
Direct Deposit – Commonly used for paychecks, income tax refunds and social security checks, direct deposit ensures electronic funds are promptly deposited into your account. There's no paper check to be mailed, lost or delayed, and you can access the funds immediately to avoid overdrafts.
Fingerprint ID and Face ID Login – Also known as biometric authentication, these methods save time logging in to your account—you don't have to manually enter your user name and password—and offer added security compared to traditional passwords/passcodes.
Next-Generation ATMs – Today's ATMs do more than ever before, and are open around the clock and on weekends. You can quickly, conveniently withdraw cash, deposit checks or currency and manage your accounts when you want.
Mobile Check Deposit – This quick, secure way to deposit checks using your mobile device saves you a trip to the bank. At Banner Bank, we call it Snapshot Deposit TM because it's as easy as snapping a photo of your check and adding it to your account. You get back the time you'd otherwise spend in the car.
Live Chat – When doing your online banking, this feature lets you ask questions in real time, the moment they come to mind.
Check with your bank to see if they offer these features. To learn more about Banner Bank's digital tools and the secure, time-saving convenience they provide, use the links embedded above, contact your local branch or call us at 800-272-9933.