5 Tips to Prevent Online Fraud
Cyber Security
Online identity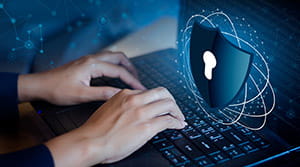 Consumers aren't the only ones at risk of online fraud. From recent data breaches at major retailers to increasing incidents of fraudulent emails, businesses are increasingly at risk of email and online fraud. Many online safety precautions that apply to consumers can also protect businesses.
At the same time, it's important for businesses to have a company-wide security plan in place to ensure employees help protect sensitive company data. Companies with dedicated IT departments work hard to protect their sensitive data and have probably taken all the necessary precautions. If you own or manage a small business without the safety net of IT personnel, here are five best practices that will help protect your information.
1. Keep Financial Data Separate
For business users in particular, use a dedicated work station to perform all company banking activity. Use other computers to access the Internet and conduct non-banking business. When it's time to retire the computer that was used to access company banking, be sure to back up all sensitive information and erase the hard drive before recycling it.
2. Know Who's Asking
As a general rule of thumb, banks don't send emails or text messages that ask for personal information such as account and/or social security numbers. Banks will also not require you to verify account information in this manner. Never share any personal information, especially social security or tax ID numbers, account numbers, or login and password information via email or text. Should you need to communicate sensitive information with your bank via email, be sure to use secure mail within the bank's secure online banking platform.
Also on the rise are emails to businesses that appear to be from suppliers. Like fraudulent banking emails, these emails may look legitimate but will ask for sensitive financial information. If you see an email asking you to provide sensitive financial information – even one that may look like it's from your bank or supplier – call to verify before responding.
3. Keep Your Passwords Secret
Do not share passwords and do not leave any documents that contain access to financial data in an unsecured area. Change your passwords regularly for better protection, using a combination of letters, numbers and special characters when possible. Change your wireless network default password as well as the default SSID (name used to identify your network). Don't broadcast your SSID and consider using encryption on your network.
4. No Phishing Allowed
Beware of phishing emails. These emails are designed to prompt you to click links provided within the email to verify or change your account in some way. Often, the links included in the email are ways for fraudsters to install malicious software (also called Malware) onto the computer or device you use to access your email. This Malware can be used to obtain personal information.
5. Protect Your Computer
With cyber attacks on the rise, it's more important than ever to install antivirus software on your computer or network. Equally important is ensuring you are regularly running and updating this software to prevent viruses from infecting your computer. In addition, installing and enabling the following software programs will help you combat malicious cyber activity:
Anti-spam software: Helps prevent spam and junk email from entering your inbox, which helps guard against phishing emails
Firewall: Helps prevent unauthorized access to your computer through viruses and malware
Anti-spyware software: Blocks the installation of spyware on your computer, which can monitor or control your computer use and send you pop-ups or redirect you to malicious websites
Keep your computer operating system and Internet browser current; this provides additional protection against fraud and theft.
With the ever-evolving Internet banking environment, Banner Bank is committed to protecting your personal and business information. We offer a multitude of layered security to keep your Internet banking access safe and secure. Learn more about how to keep your business safe from fraud and visit our
Banking Security
page.