Forbes Names Banner Among the World's Best Banks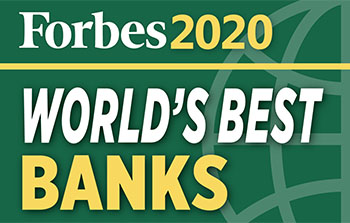 Thank you, Forbes, for naming Banner Bank one of the World's Best Banks in 2020. We're flattered by being included among the best banks in 23 different countries on the list.
Forbes partnered with Statista to survey more than 40,000 customers around the globe for their opinions on their current and former banking relationships. Banks were rated on general satisfaction and key attributes like trust, fees, digital services and financial advice.
"Even before Covid-19 changed everything about the way we live, customers around the world wanted and expected the ability to check balances, cash checks, and apply for loans with just a few easy clicks," the Forbes article noted.
View Forbes complete list of the World's Best Banks 2020.
Banner Bank also has been included on Forbes list of America's 100 Best Banks for the past four years.