SBA Again Recognizes Banner as Top Lender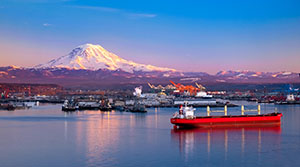 Our unwavering commitment to small business lending was recognized again when the U.S. Small Business Administration named us the Regional Lender of the Year for the Seattle/Spokane District in Washington and Star Performer in the Portland, Oregon District.
This is the eighth straight year the SBA recognized Banner Bank's commitment in Washington and the fifth year receiving the Star Performer Award in Oregon.
"Recognition for our efforts assisting small businesses is especially meaningful this year—a time when it has become even more important for all of us to do what we can to support these businesses," said Mark Grescovich, Banner Bank President and CEO. "We're proud of our long-standing commitment to small businesses and the important role they play in our economy."
The SBA award in Washington is in recognition of Banner Bank originating the most loans last year among all banks serving Washington State. The SBA's Seattle/Spokane District includes the entire state of Washington except for a small geographic area in Vancouver, Wash., which is included in the Portland District due to proximity.
The Star Performer Award in Oregon's Portland District is for demonstrating "lending excellence" closing at least 20 loans during the agency's fiscal year. The SBA's Portland District includes Vancouver and 30 of the 36 Oregon counties. Only the six most eastern counties are not included as they are assigned to the Boise, Idaho District.
In recent years, Banner has also received a National Lender Recognition award in the Sacramento District, which covers the 21 counties of northeastern California. However, that district did not recognize lenders this year due to the pandemic.